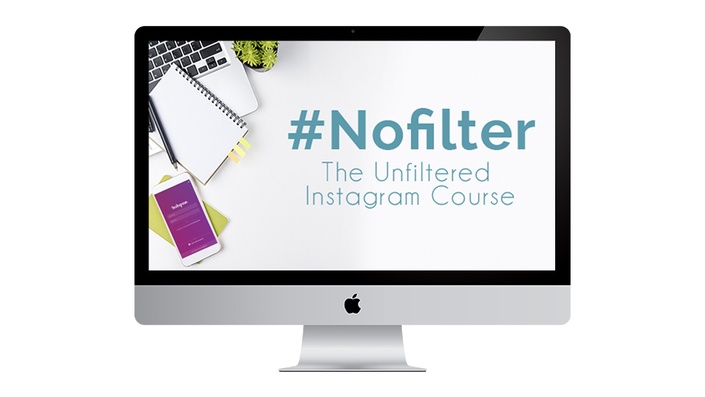 #Nofilter - The Unfiltered Instagram Course
The only Instagram course you will ever need to go from beginnger to pro in less than 90 days
Enroll in Course
Build your brand or business and make a sustainable income from Instagram
What if you could grow a following and create or grow a business that makes steady income on auto-pilot so you could spend more time focusing on the things you enjoy? Guess what? You can!

Instagram doesn't have to be difficult. It could easily be your biggest source of business and side income.
In this course, you'll learn how to triple your following, attract the RIGHT people, brand yourself on Instagram, and grow a page that moves beyond this little app and into your everyday life.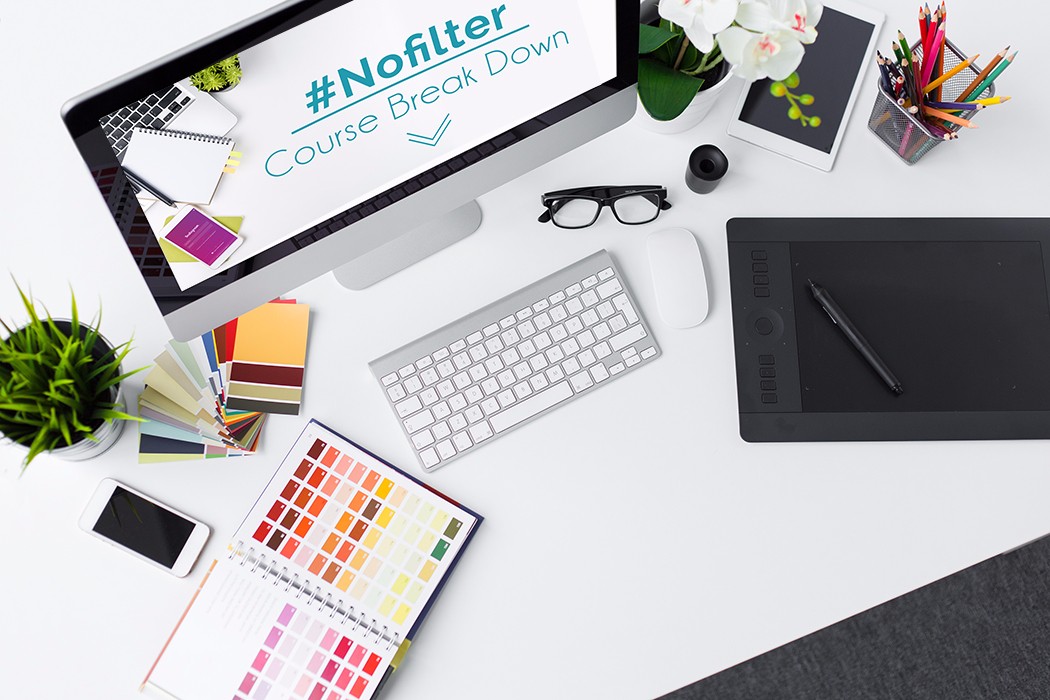 Not too long ago, I had NO followers, NO money and NO game plan. I was ready for a change.
Does this sound familiar?
You just can't seem to get past x amount of followers and have hit a plateau. You don't know what to post, when to post, or how to write an engaging caption. You're following every method and nothing seems to be working.
You despise your 9-5 office life and you desperately want to learn how to start or grow your brand online and make money anywhere in the world.


You enjoy taking photos (or wish you enjoyed it) but you want to make them look even better and start generating tons of likes and comments.
You've always wanted to have a successful Instagram page (and business) but you honestly have no idea where to start. You feel like, "there's so many people in this niche, there's no room for me"
You don't want to spend countless hours on Instagram or in front of your computer. You want a system that works and you want it now!
Sound like you? Then you are in the right place...
I get it, I was in the same position just two years ago!
By following the plan that I outlined in the course, I was able to double what I was making in my office job, generate over six-figures in revenue, and begin my life-long goal of world travel all while getting PAID.
You can do it too!
Imagine if you woke up every morning with...
Hundreds of new followers ready to engage with your photos, work with you, and connect with the brand that you built.
Total freedom to design your day – whether you want to work from the road or your cozy home, meet with some friends or clients, or even just take the day off.




Feeling excited to work on your brand because it's finally creating income and a life that you've always wanted
New customers and clients that come to you instead of the other way around all because "they saw you on Instagram." Plus your inbox is filled with new inquieres , business opportunities, free goodies from brands and endless paid collaborations.
And best of all, money that you earned all on your own - money that allows you to spend more time doing the things you love whether it's traveling, taking photos, enjoying free time with loved ones… It's all within your reach.
This all, and more, will be your reality! It's easier than you think.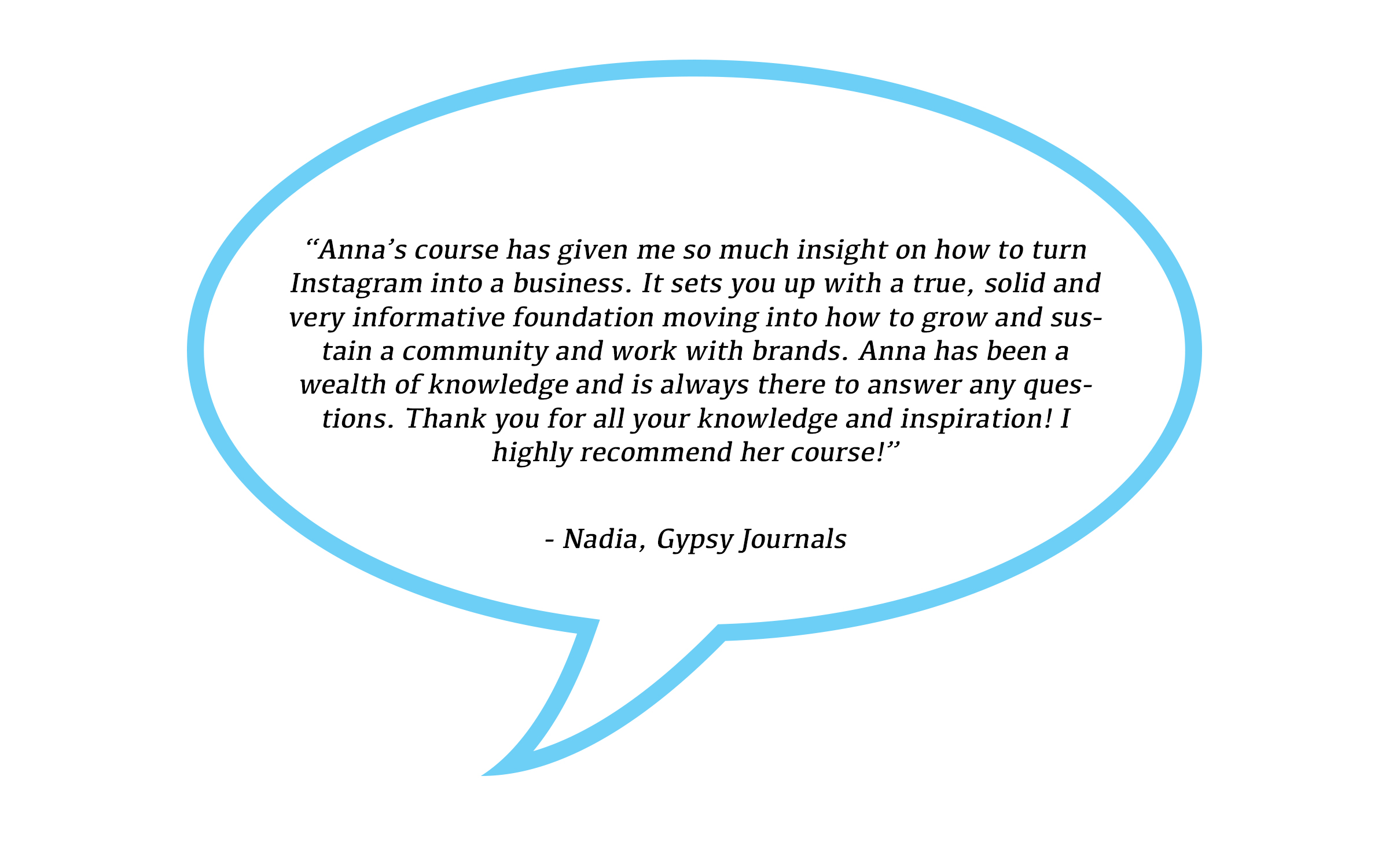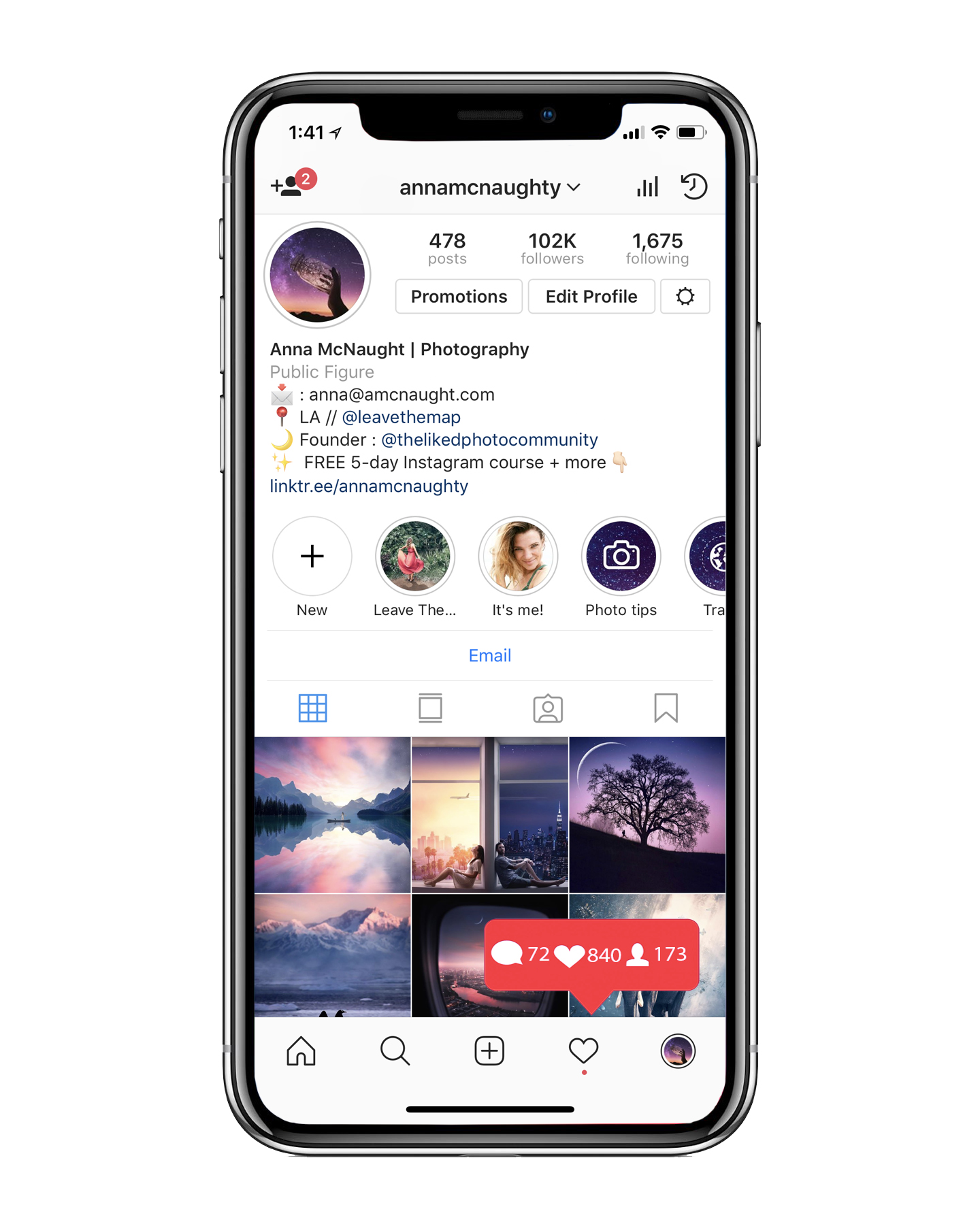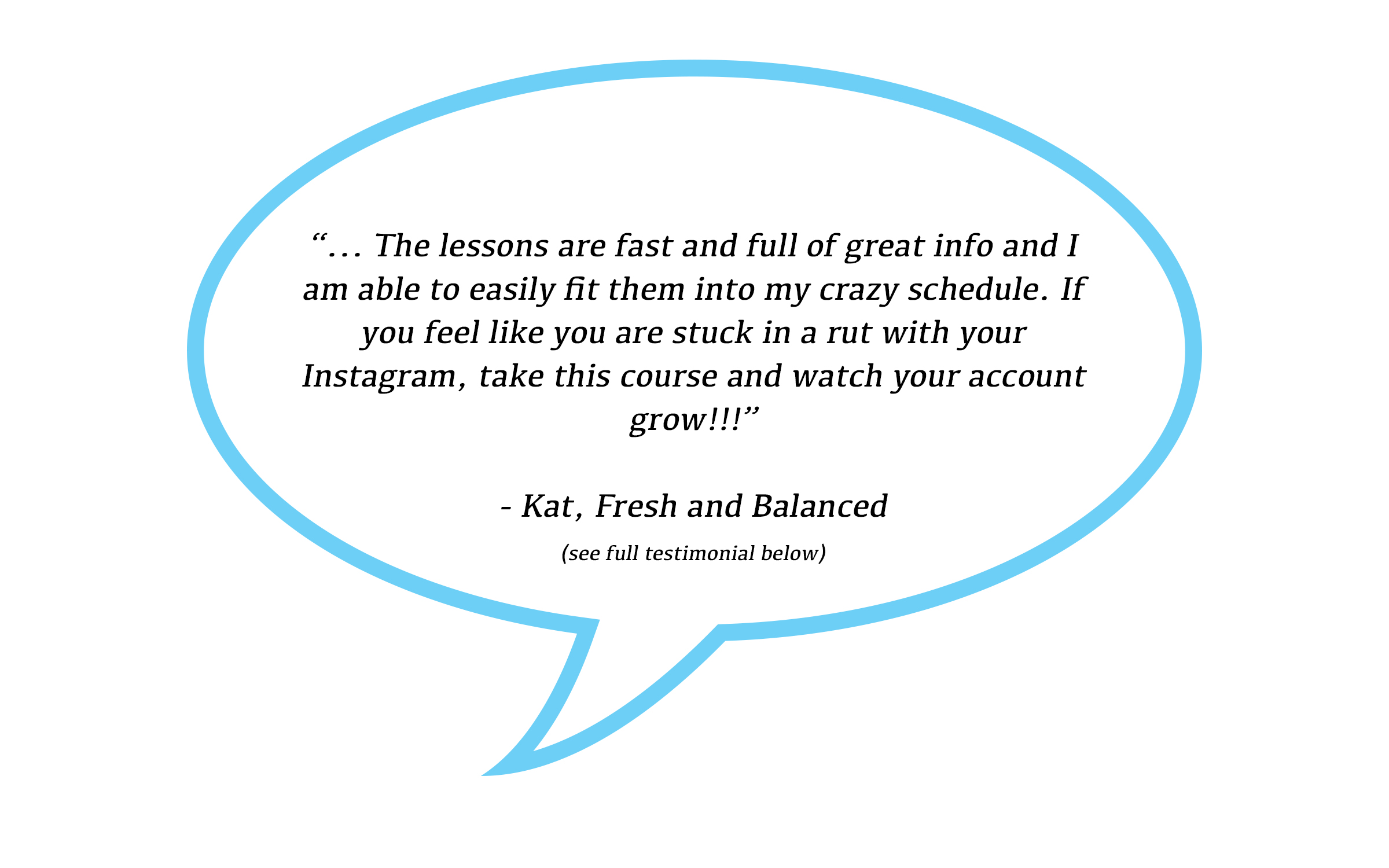 In this course you'll learn:
How to navigate Instagram like a total pro, actively grow and automate your account, and how to write a bio that converts to jobs, clients and offers.
How to get noticed, get hired and make money: the best ways to find and reach out to potential clients, networks that I use to bring consistent jobs, easy ways to create passive income.
How to create photos that set your apart from the crowd. You'll discover the proper way to create a signature look (using presets, ideas, and planning), brand your page, and use hashtags that aren't useless on your page.

My top strategies that I use to take any basic Instagram account or idea and turn it into a profitable online business that practically runs on auto-pilot.

The step-by-step process of how to get started, set goals, gain engaged followers, engage with the community, and more
The top tools to manage and thrive so you can stop wasting time and starting achieving your goals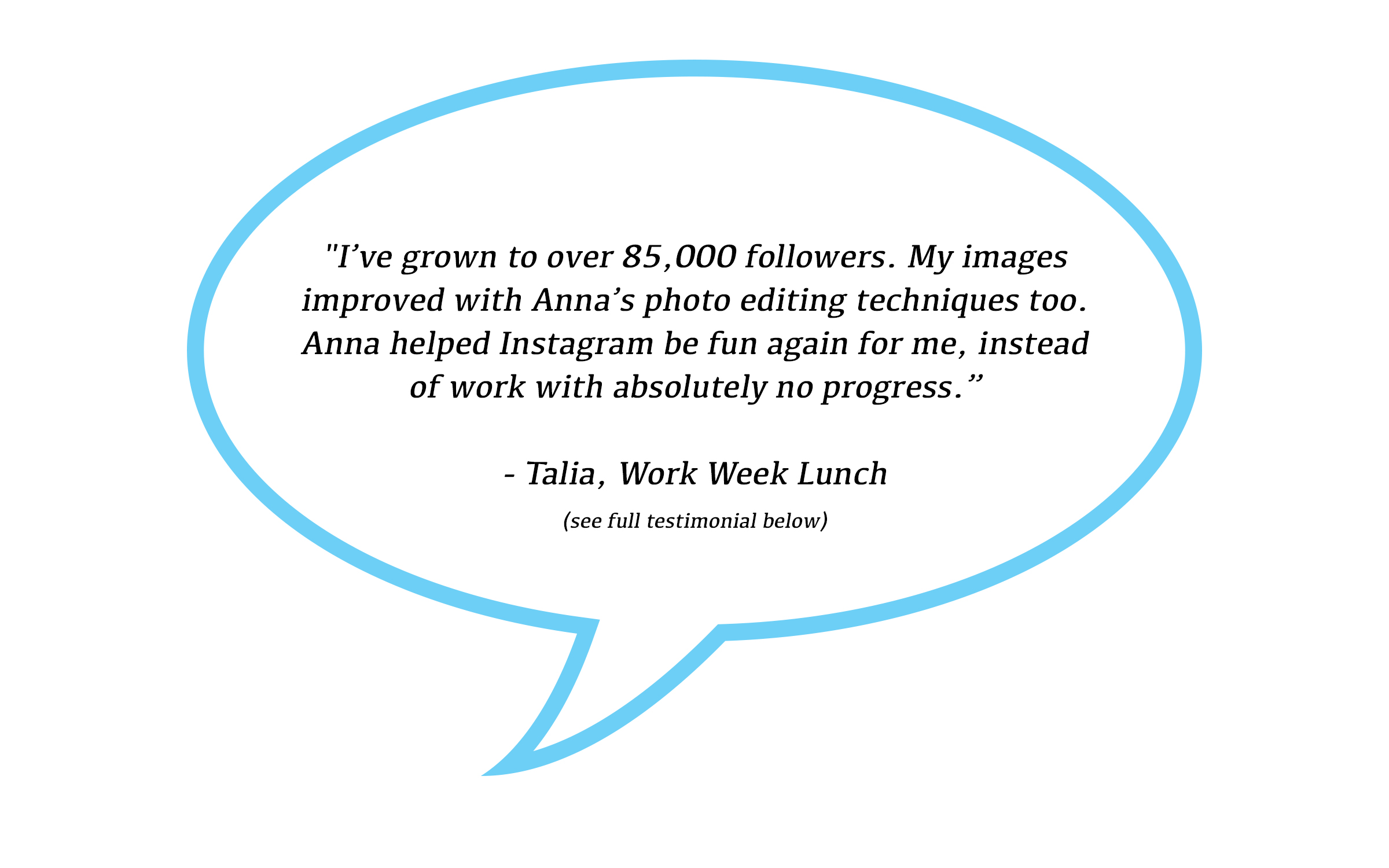 Sure there are TONS of Instagram courses, lessons, and resources that you can learn from, heck, I've used plenty of them to learn myself!
But to really master the visuals of Instagram and business you need someone who has a background in both.
That's where I come in!
Hi! I'm Anna,
your instructor.
I'm a photographer, designer, IG strategist
and founder of The Liked Photo

Your Instructor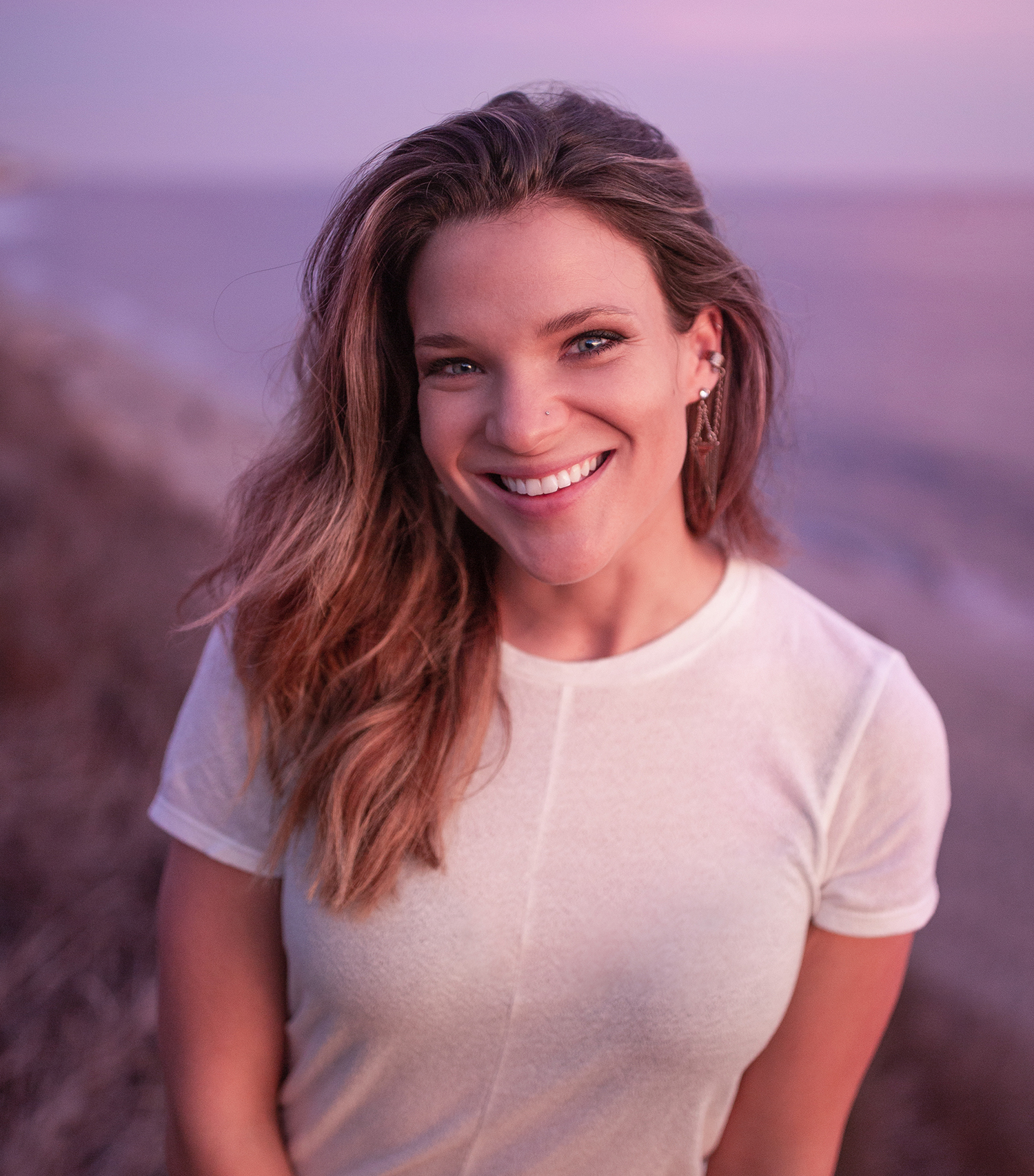 I've always had a passion for all things creative. My love for photography and graphic design merged to create the Instagram that I am known for today. In less than two years, my passion has become my business that brings in over $5k per month in revenue. I was able to quit my job, work with incredible brands and people, begin traveling the world, sell and show my work at numerous art shows, and live the life I have always dreamed of.
I have been working with Photoshop since I was in 5th grade. I have watched endless tutorials, taken courses, and have worked hard to refine my craft over the years. I am still learning just like you and will always learn from new sources for the rest of my life. I have a love of teaching and a love of all things Photoshop. I'm here to teach you everything I have learned over the past 15 + years, challenge your creativity (in the best of ways, and offer you a new perspective on the world of digital art.
So how am I qualified to be your teacher?
I spend hours doing research and keep up to date with the latest trends and activity

I grew my following using the same exact methods from this course

I have a degree in photography, design and marketing as well as an eye for aesthetically pleasing images. (I'm also officially certified in digital marketing.)

I've taught courses and workshops around Southern California and have been featured in major publications such as Forbes, Huffington Post, Adobe's Blog, Thrive Global, and many others.

I've worked with industry professionals and major magazines, including Women's Health, Harper's BAZAAR, Redbook, and more

Most importantly, I work extremely hard to make sure that my students see real results! I continue to make follow-up phone calls and email conversations to check in on my students progress.
Scroll down for testimonials from others that I have worked with!
Click below to see my Instagram
This is the exact step-by-step system that I used to transform my Instagram account into profitable online businesses that gives me the freedom to live and work from anywhere in the world.

If you set your mind to it, you'll achieve it.
---
Each module consists of 5-15 video lessons that are broken down into short, bite-sized pieces and a printable workbook containing actionable items that you can begin implementing right away.

Why Instagram? Out of all the social media platforms, learn why Instagram number one for your business

Optimize your account: Write a killer bio that converts no matter your niche

The 5 important things to do when setting up your account and bio

Discover your niche and unique selling proposition

Determine your target audience and learn why this is the key to success

Learn how to use your competition to your advantage

Why some accounts are winning and a few big brands that are significantly failing

Bonus videos for beginners (or those of you that need a refresher): Set up a new account, link accounts, add a category to your page, take a tour and learn the Instagram lingo.

Learn why a theme and color scheme are not just for art school!

The importance of beautiful and captivating photos

The key to developing your unique style

Does your audience know it's your page by a single image? They should! And they WILL after this lesson.

Why consistency is SO important and the debate about patterns

The top 3 things that businesses are doing wrong when it comes to their images

My top editing recommendations

Learn about why it's more important to have engaged followers rather than a high number of followers

Discover the 3 types of hashtags that will bring you more followers

Recognize a hashtag that will work FOR YOU vs. one that will waste your time

Find out how tagging can bring more exposure, brand deals, and an overnight boost in followers

Inspire your audience with captions and get more comments on your posts

What algorithm? Learn how to beat that nasty thing once and for all!

Detailed tech tutorials showing exactly how to find new hashtags and the secret step I use to save me tons of time.
Learn how to determine the best times and days to post based on your audience

How to properly use apps and my methods to schedule and plan your posts

Follow the same system that I use to ensure I always have something to post

An Inside look at a major mistake that accounts are making everyday

Learn how to easily engage with the community without being "spammy"

A detailed discussion on Instagram Pods and how to find them

10 minutes to more followers, likes, and comments

+ Apps for Instagram cheatsheet and 12 month posting planning calendar

The 3 step funnel to convert followers into happy customers

Learn how to properly find and execute a paid shoutout

Detailed lesson on being an influencer and using influencers to get your product out in the world

Learn why Instagram is the new form of advertising, why big brands are switching, and EXACTLY what they are searching for

Use DM's to your advantage (and what to avoid)

The 5 different ways I use Instagram to make a full-time income

The art of marketing and pitching

Why your ads aren't converting - the keys to setting up a successful IG ad

How to use a call to action within your posts that brings continuous sales and clients

Marketing yourself outside of Instagram to grow your page and business

Making money in any niche, account, or business

The secrets to using stories to build your brand

How to make consistent money in a few stories a day

How going live can make or break your business

The best apps to create beautiful stories that share the message of your brand

A guide to Highlights and cover images

Communicating to your audience and using Instagram's never ending list of features

Basics of photography and what makes a great image. Learn the rules so you can break them!

Learn basic lighting setup, how to use natural light and handle low light

Discover how composition changes the way someone feels and reacts to an image

Learn what different colors mean to our minds eye and how to use this in your Instagram, branding and marketing.

A quick Lightroom and Photoshop lesson that you can use on the go

How to properly do flat-lay photography

Plus a list of my number one recommended resources including lights, gear, apps, editing programs, courses, and much more.

Business discussions, creative slumps, and social blues - how to deal with the ups and downs of Instagram.


This course is designed for you to TAKE ACTION! Follow along on these interactive worksheets including, a 12 month posting calendar, income tracker, media kit templates, publication tracker, and a 30-day photo challenge.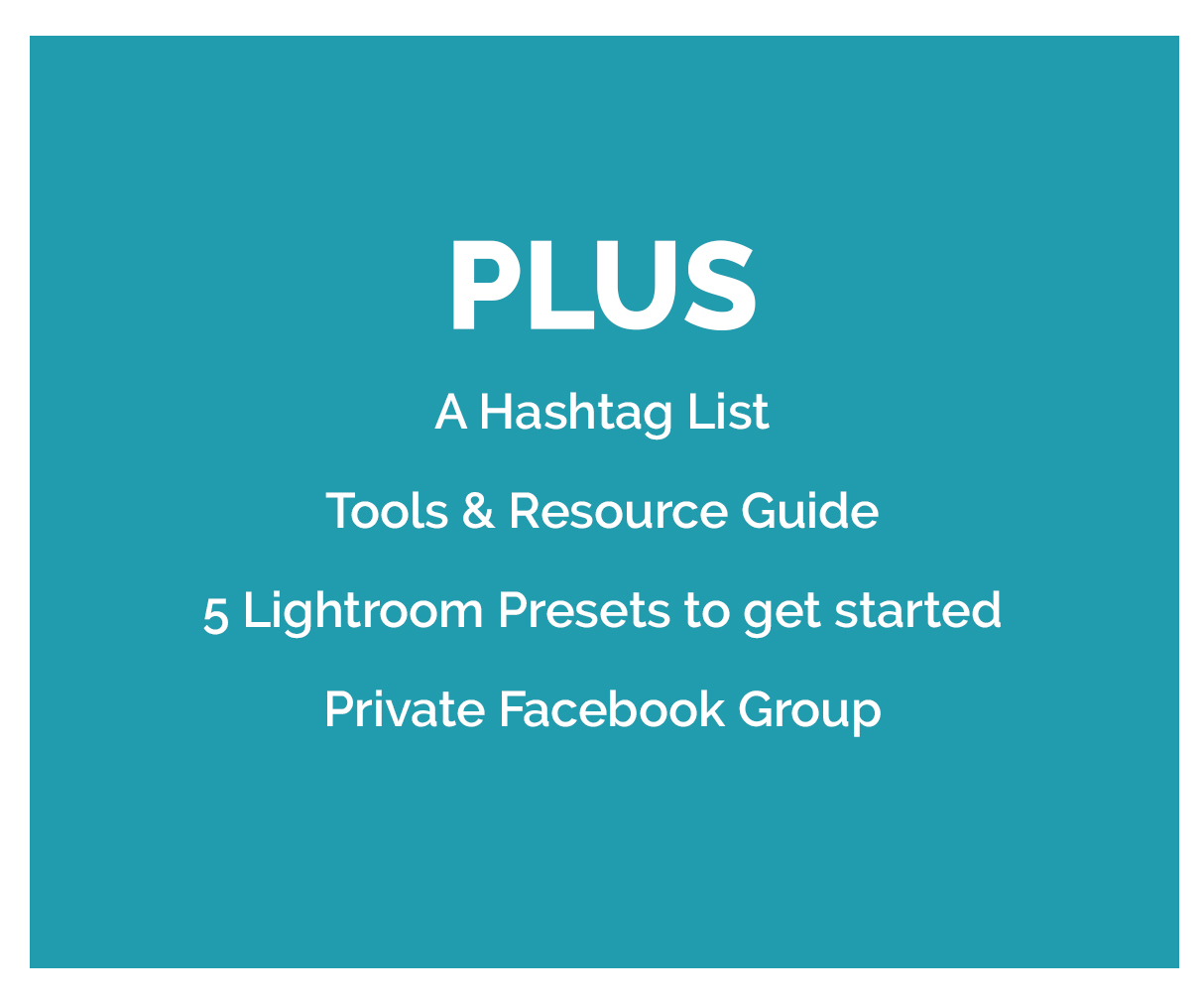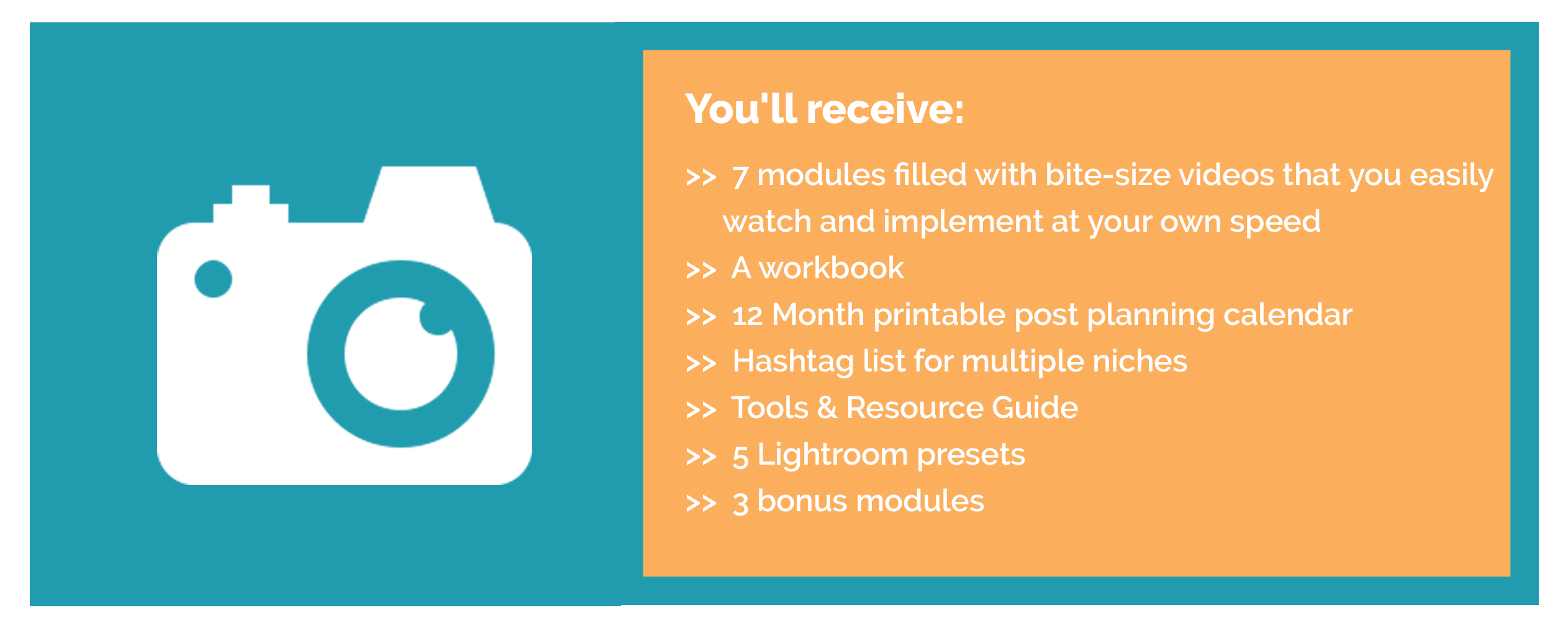 WHO IS THIS COURSE FOR?
This course is for you if:
You're a personal brand, small business owner or social media manager, creative, blogger, traveler...


You're a beginner and or advanced "Instagrammer" who isn't seeing any growth or business with your page

You don't know how to get started making money with Instagram or how to set yourself up for success

You're ready for a step-by-step plan that will get you results!

or maybe you just don't understand how Instagram can grow your personal brand or business (all that will change after this course)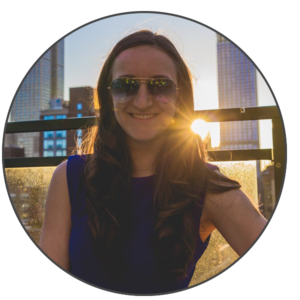 "Anna was like the guardian angel my Instagram needed. I liked Instagram for my personal life, but for my blog and business, it was the most frustrating social media platform! I was totally lost on what I wanted to be conveying in my Instagram, how to funnel engagement from Instagram to my website, and how to find others on Instagram to collaborate with. Anna helped clarify SO much and now I LOVE getting on Instagram, with new followers literally every single time I log on. If you want to learn about the power of Instagram, use it to find others you can connect and work with, and grow your audience, I can't recommend Anna enough. Do everything this woman tells you!"
- Leah, Urban 20 Something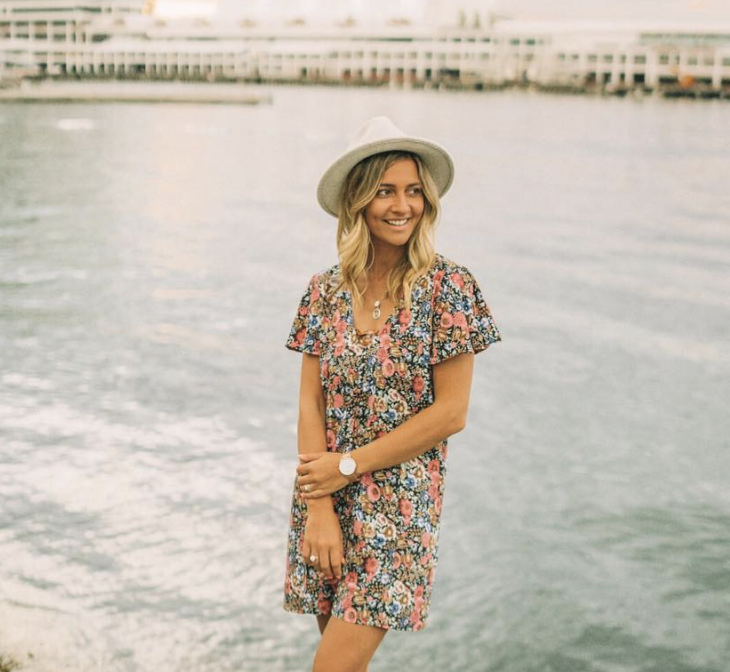 "Anna's course has given me so much insight on how to turn Instagram into a business. It sets you up with a true, solid and very informative foundation moving into how to grow and sustain a community and work with brands. Anna has been a wealth of knowledge and is always there to answer any questions. Thank you for all your knowledge and inspiration! I highly recommend her course!"
- Nadia, Gypsy Journals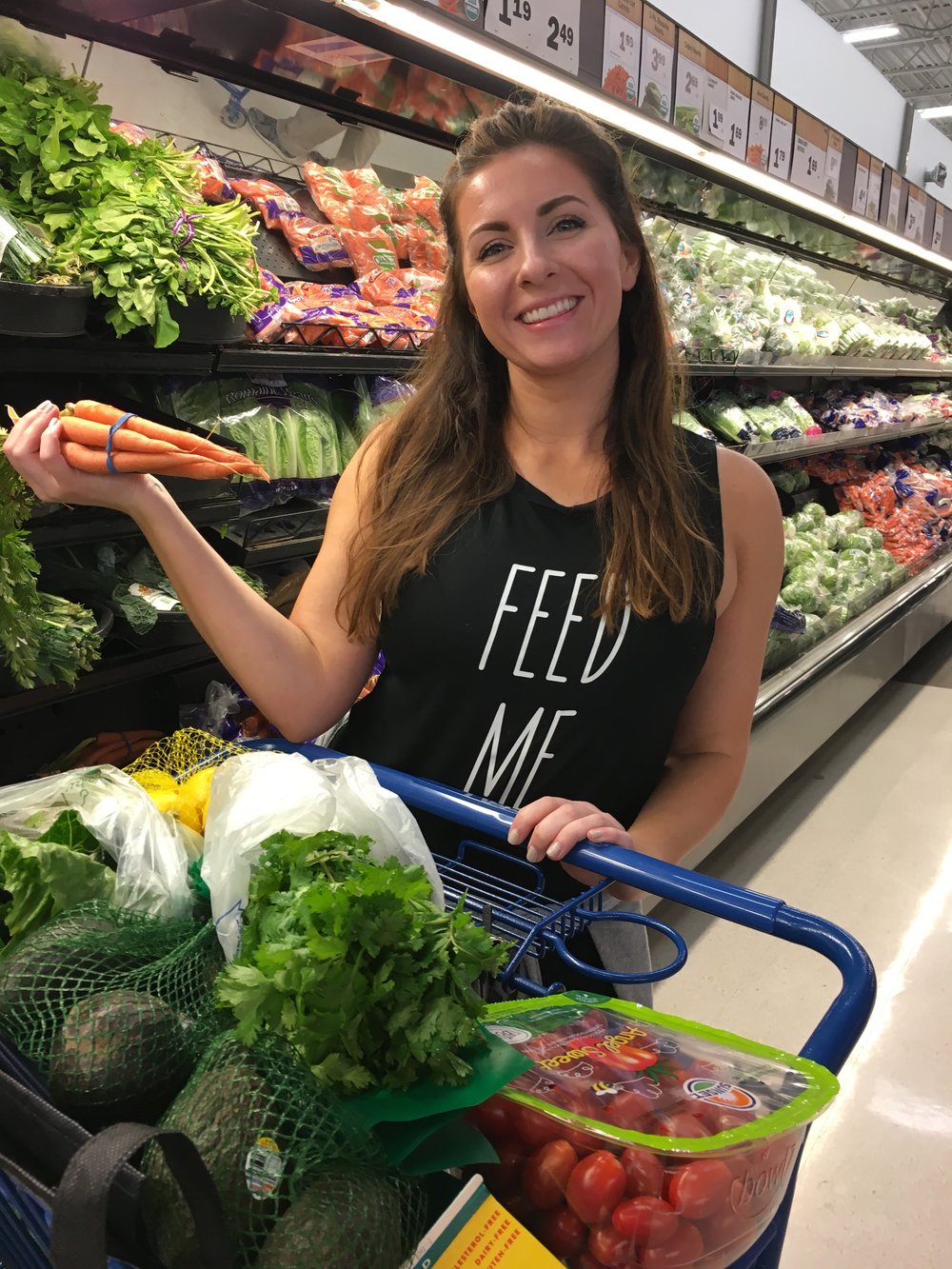 "Since starting this course I have seen big changes with my account. Using the workbook I have been able to stick to consistent posts, share my passion of healthy food in a clear, impactful way and grow my follower base! The lessons are fast and full of great info and I am able to easily fit them into my crazy schedule. If you feel like you are stuck in a rut with your Instagram, take this course and watch your account grow!!!"
- Kat, Fresh and Balanced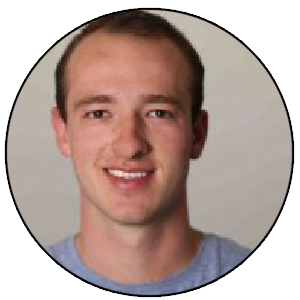 "Anna proved to be a tremendous resource to me within the Instagram marketing world. She helped me build my brand's online presence and led me to the most effective strategies in building an audience. It has truly been a pleasure working with someone who has this knowledge in this sometimes confusing online space. She was extremely transparent and easy to work with!"
- Andy, Verizon Digital Media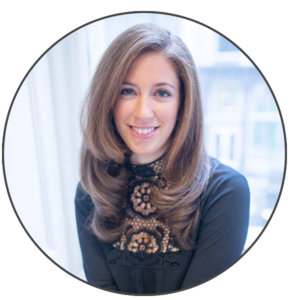 "Before working with Anna, I had felt stuck at the 850 follower mark. I saw my account jump from 875 to 935 followers in just six days. My images improved with Anna's photo editing techniques too. Anna helped Instagram be fun again for me, instead of work with absolutely no progress.
The first 1,000 is always the hardest and I feel so confident in my ability to engage, grow and really add value to my followers organically. I highly recommend Anna to anyone who wants to grow an engaged following the REAL way - without it taking forever."
- Talia, Workweek Lunch
(NOTE: Talia has grown her following to over 100k since working with me)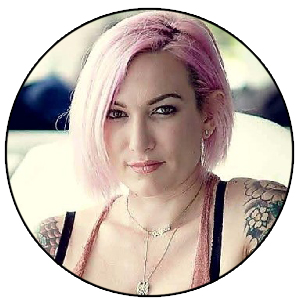 "Anna's Instagram class will grow your account and teach you so many techniques that you didn't know about. Anna is always available and super sweet and willing to help. I would recommend this class to anyone, it was totally worth the money."
- Marisa, Dog Groomer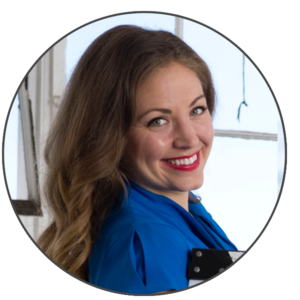 "Anna was so helpful with increasing engagement on my Instagram account. From little tech tricks to how to engage with your target market, I found her advice spot on, easily implementable + simple to follow. She did a wonderful job!"
- Michelle, Visibility Vixen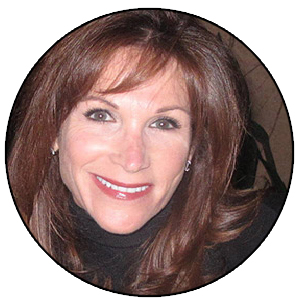 "The Instagram class with Anna was great. I learned so much and increased my followers by 200 in just the 5 weeks of the class. Anna went above and beyond to help each student with the particulars for their specific company. I highly recommend her class."
- Fran, Design Synthesis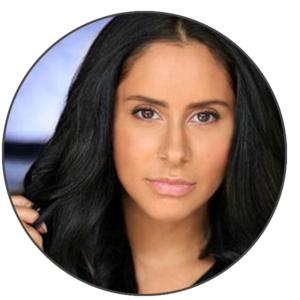 "Anna has taken a countless amount of classes on marketing, social media, etc that have made her the expert she is today. Since taking Anna's class I have been able to narrow in on my brand, develop an aesthetic, and grow my account to 10k. I'm excited to continue working with Anna as we work together to build my online presence!"
- Becca, Model/Actress
Frequently Asked Questions
How is the course delivered?
The course materials are shared online in your virtual school as video content, transcripts, and a course workbook.
How long do I have access to the course?
How does lifetime access sound? After enrolling, you have unlimited access to this course for as long as you like - across any and all devices you own.
Will this course continue to be updated? And will I get free access to future versions?
You will have lifetime access to all updates and changes made to this course. For Free!
When does the course start and finish?
Now! It is a completely self-paced online course - you decide when you start and when you finish. Come back and watch it as many times as you would like, it never expires.
Do I need to be or have a business to take this course?
Nope! This course is designed for personal accounts and business accounts. Anyone looking to grow their Instagram or online presence will benefit.
Can I buy the course now and start at a later date?
Yes! If you purchase the course during pre-sale or during the launch you will have lifetime access to the videos, bonuses, and all materials.
Can I actually gain followers from this course?
Yes! I will give you everything you need step-by-step to grow your account. Keep in mind, it is up to you to implement these methods. The more time and effort that you put in up front, the better your results will be! This is not a "get-followers fast" method that you will find on google filled with bots. This is a real data-driven program to bring you real followers and build a brand and business that will continue to flourish for years to come if you put the time in now.
This is a big investment. Is it worth it?
Yes! It only works though if you work! If you put in the time, you will see results and a guaranteed return on investment.
Do you offer a refund?
Yes! We offer a 7-day refund, however, due to the digital nature of this course, you must show that you completed the materials and didn't see results.
Still have a question that isn't listed here?
I want you to feel confident about the investment that you are making in this course so if you have any questions that aren't answered above, please email me at
[email protected]
YOU HAVE TWO CHOICES…
Think about where you want to be six months from now or even one month from now. Do you have a plan? Are you making money online and living your dream life?
You can continue to post with no reactions, search the internet for new information, continue with no plan or you can enroll in No Filter and follow the step-by-step plan to get results faster than you thought possible.
What will it be?